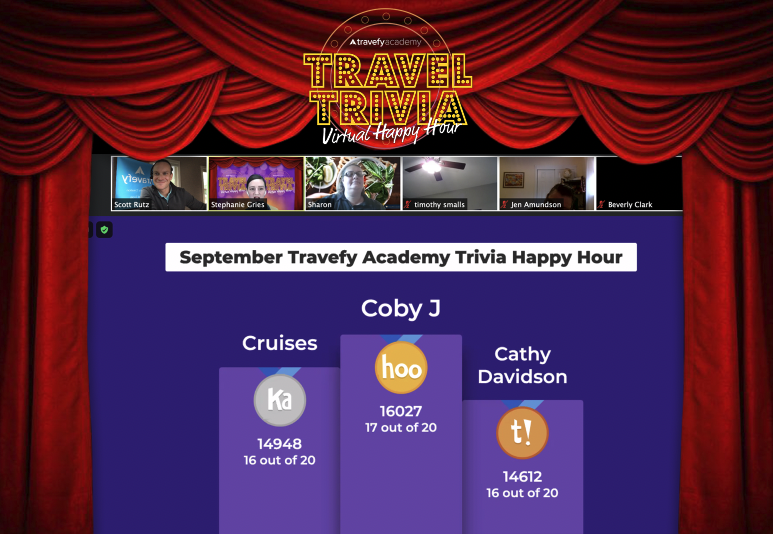 Thank you to everyone who joined our third Travefy Academy Trivia Happy Hour on Thursday, September 10th! We hope that you had as much as fun as we did and learned some new North American travel trivia along the way!
We wanted to do something fun with fellow travel industry colleagues to take a break from the daily grind and just enjoy each other's company and get a little face time.
Congrats to our winners:
1st Place: Coby J.
2nd Place: Cathy Davidson
3rd Place: Cruises
The 20 trivia questions were all travel-related focused on North America ! To see all of the questions and answers, see below to create your own travel trivia game with your colleagues, friends and family!
---
Trivia Questions:
Which two cities are the starting/ending points for Route 66?
a. Santa Monica & Chicago
b. LA & New Orleans
c. Albuquerque & Atlanta
d. Austin & Portland
Canada is the largest exporter of which sweet little fruit?
a. Strawberries
b. Aronia Berries
c. Blueberries
d. Plums
What is the only species of deer in Greenland?
a. White-tailed deer
b. Reindeer
c. Elk
d. Moose
The former residence of which famous author is now a tourist attraction in Key West?
a. Mark Twain
b. John Steinbeck
c. F. Scott Fitzgerald
d. Ernest Hemingway
If you were visiting Hershey's Chocolate World, you would be in which state?
a. Pennsylvania
b. New Jersey
c. Virginia
d. New York
This country in North America is the largest producer of silver. What is it?
a. United States
b. Canada
c. Mexico
d. Cuba
When is the most popular time to visit Cancun, Mexico?
a. Between October and May
b. Between December and June
c. Between May and August
d. Between November and April
The only royal palace in the U.S. is located in which state?
a. Hawaii
b. New York
c. Lousiana
d. California
What country has the most golf courses per capita?
a. The Bahamas
b. Turks and Caicos Islands
c. Bermuda
d. Cayman Islands
Where would you find these statues?
a. Buenos Aires
b. Lima
c. Bogota
d. Easter Island
The longest and largest underwater cave system in the world is found in Mexico. What is this called?
a. Cenotes
b. Mexico Taverns
c. Polje
d. Mexico Oceano
Which Canadian city is considered "Hollywood North"?
a. Toronto
b. Vancouver
c. Montreal
d. Ontario
Which island is the largest island in the Caribbean?
a. Jamaica
b. Puerto Rico
c. Dominican Republic
d. Cuba
This country is home to the largest pyramid in the world
a. Mexico
b. Egypt
c. Canada
d. United States
What is the name of the 2nd largest reef in the world?
a. Belize Barrier Reef
b. Maya Barrier Reef
c. Great Barrier Reef
d. Florida Reef
Which city is home to North America's largest mall?
a. Bloomington, Minnesota (Mall of America)
b. Houston, TX (The Galleria)
c. Edmonton, Alberta (West Edmonton Mall)
d. Prussia, Pennsylvania (King of Prussia)
Which of the following is NOT a color in the Jamaican flag?
a. Black
b. Green
c. Gold
d. Blue
What is Canada's National Sport?
a. Soccer
b. Curling
c. Lacrosse
d. Hockey
(two correct answers!)
This country is home to the only Jaguar Preserve on the planet. What country is it?
a. Mexico
b. Belize
c. Costa Rica
d. El Salvador
True or False: Canada has the longest coastline in the world?
a. True
b. False
This popular drink was invented in Puerto Rico
a. Piña colada 
b. Mojito
c. Daiquiri
d. Mai Tai
---