Travefy Academy's multi-day Sales Workshop provided Travel Advisors with insights and inspiration to grow sales in 2021.
Travefy Academy successfully hosted its inaugural Sales Workshop on October 26th and 27th. The virtual event focused on innovative sales strategies for Travel Advisors amidst current industry challenges.
The multi-day workshop featured industry experts across five interactive sessions to prepare Travel Advisors for sales success in 2021. Each session highlighted distinct areas of travel sales to provide actionable insights and tips for all types of Travel Advisors.
Key presenters included:
Joshua Harrell, CMO of Travel Quest / WorldVia Travel Group
Angela Hughes, VP, and Co-Owner of Trips & Ships Luxury Travel
Brandon Foster, Mindset Expert for Careers on Vacation
Korrine Johnson, Creator of Travel Biz Boss
Dave Pope, Director of Sales for Not Just Travel
"At Travefy we're a Travel Advisor's biggest champion," notes Stephanie Gries, Travefy's Education Coordinator. "2020 has been an incredibly challenging year for our industry, but we see enormous opportunity in 2021. The purpose of the Sales Workshop was to help Advisors maximize their opportunities and potential next year and beyond!"
In line with its mission, Travefy Academy's first-ever Sales Workshop was a free event, which saw an overwhelming response from the Travel Advisor community with over 2,500 event registrations.
"This was such an informative workshop. The speakers were well prepared, professional, detailed, and very enthusiastic," notes Helen Amelsberg, Owner of Vacation Crusaders, a Dream Vacations Franchise in Furlong, Pennsylvania. "The content was practical, easy to understand and so useful!"
"Travefy Academy's Sales Workshop Series was fantastic! All of the presenters were top-industry professionals who provided excellent information and fabulous tips that will undoubtedly help me implement great sales strategies for my business," shares Lore Ross, Owner of To Infinity Travel in Santa Clarita, California. "I am so thankful to Travefy for offering such a great series that delivered so much valuable content- all for free!"
"The event brought together so many motivated travel professionals from all over the world who wanted to up their sales strategies and skills. From the feedback that I received from attendees, they are primed and ready to accelerate their business as the travel industry rebounds," shared Workshop speaker Joshua Harrell, CMO at Travel Quest Network.
---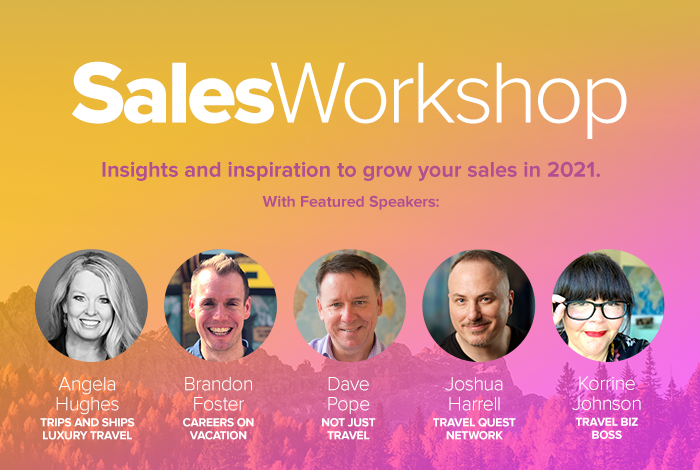 Watch all Sales Workshop sessions here: